C64DTV Transfer Cable
The cable connects a C64DTV Joystick Port (1 or 2) to a PC Parallel Port.
The software is fully usable, and has been tested under w2k and GNU/Linux, but should work fine under NT/w2k/XP and even w98.
Current transfer rates are roughly 12Kbytes/s dependant on the load on the PC.

Remote Control
There are advantages of using this with Joystick Port 2 (automatic remote control from the PC).
When using with Joystick Port 2, you will probably want to include the "Thru" connector so you can use an external joystick while the cable is plugged in.
To be able to use the remote features, your Joystick Ports on the C64DTV must have the Reset line wired to POT X on the Joystick Ports you use for the cable.
Components
I used BAT54 surface-mount Schottky-barrier diodes. BAT85 are equivalent hole-mount types. Other low Vf-types may work, but if you are unsure, ask someone who has experience. (1N4148's will not work)
A small number of PC-/motherboard-types may have trouble communicating through this cable.

Verified working:
ASUS P4PE + BAT54, Windows (tlr)
ASUS A7N8X Deluxe + BAT85 (streetuff)
ASUS A7N8X-E + 1N4148(!), Linux (tixiv)
ASUS M2N32 using PCI parallel port + BAT85 (spiff)
Compaq Evo N610c Laptop + BAT43 (GigglyWurx)
IBM T20 Notebook + BAT85 (streetuff)
IBM T21 Notebook + BAT54, Linux (tlr)
Intel 865PERL + BAT85 (spiff)
MSI KT3V + 1N5822 (nojoopa)
VIA EPIA-5000 + 1N5822 (nojoopa)
Software
Download: dtvtrans-1.0.zip (2008-02-18)
(previous versions: dtvtrans-0.6.zip, dtvtrans-0.5.zip, dtvtrans-0.0.2.zip, dtvtrans-0.0.1.zip)
The transfer software requires giveio.sys to be installed, as it needs direct parallel port access.
Download: directio_fixed.zip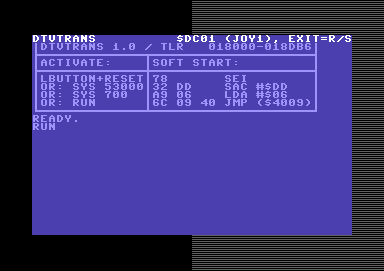 Use this as much as you want, but please give proper credits.
Watch this space!
/Daniel Kahlin (tlr)
External Resources
dtv2ser/dtv2ser+usb excellent hardware to connect to a DTV running dtvtrans using a serial port or USB port. (by lallafa)
DTVTrans+ alternate dtvtrans version with some additional features. (by 1570)
Transfer Cable
Schematics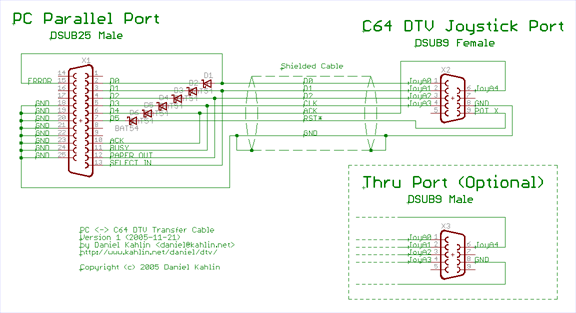 A schematic of the transfer cable
Click for a larger view.

Pictures

Picture of the completed transfer cable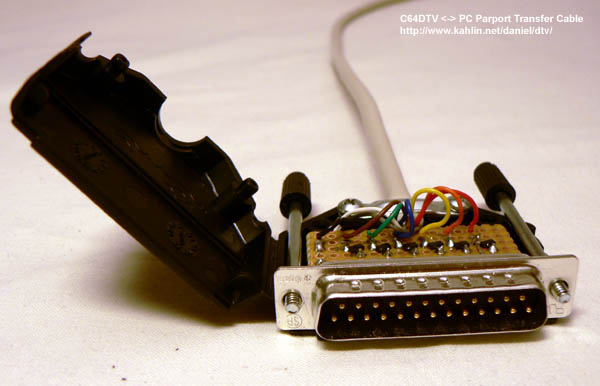 Picture of the internals at the PC Parallel Port end.