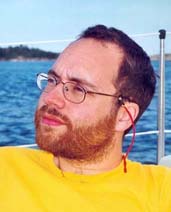 Daniel Kahlin
Welcome to my humble site. Here I have some pages containing some results of my interests. This includes music, software, electronics, and some 8-bit retro computing among other things. Navigate using the links above.
NEWS:
2008-08-30:

There has been many updates around the site but few listed here, have a look around!

2006-08-09:

Our son Malte is born!

2006-07-06:

C64DTV Page: A lot of updates, easier access to the various programs.

2006-03-18:

VIC-TRACKER: Added the song Define contributed by Dragan Espenschied.

2006-03-04:

VIC-TRACKER: Added the songs from the VIC-TRACKER COMPO 2005.

2005-11-26:

C64DTV Page: Added a page about the C64DTV PAL version that recently started shipping in Europe.

2005-10-21:

VIC-TRACKER COMPO 2005: A friendly competition to squeeze out some interresting music and sounds from the Commodore Vic-20 is announced.

2004-11-20:

Software/MIDI Plugins: MonoKey updated to version 0.0.3.

2004-10-14:

Software/MIDI Plugins: Added MonoKey, a VST Module Architecture MIDI Plugin.

2004-10-05:

Music/Daniel Kahlin: Added the oldskool minimalist track "Machine".

2004-10-02:

VIC-TRACKER: The much anticipated VIC-TRACKER 2.0 is released! Version 2.0 adds loads of new features and improvements over the previous 1.0 and 0.6 versions!

2004-09-28:

Music/Daniel Kahlin: Added two additional songs. "0.75 * Happy" from 2000, and the collaboration project "Numbered" from 2002.

2004-01-22:

Over5: Added a link to Jeff Ledger's Over5-based 1581 Emulator Project.

2003-08-15:

Over5: Added Win32 binaries of the over5-20021117.tar.gz release.

2003-03-03:

Everywhere: Got so fed up with spam harvesters that I removed all mailto-links on this site. Sorry, but spam kills email!

2003-02-27:

Articles: Minor tune up on the articles (mostly corrections of external links).

2002-12-28:

Kahlin and Ersson: Kahlin and Ersson are joined by Björn Roth, and rename themselves The Sofas.

2002-12-28:

Over5: Long due development release of over5-20021117.tar.gz.

2002-07-23:

Corrected a few links here and there to show that I'm alive.

2002-04-22:

Over5: Added screenshots. Added links to other similar tools.

2002-04-07:

Over5: Updated the snapshot of pucrunch to the 2002-03-08 version. Important fixes here!

2002-04-04:

VIC-TRACKER: Sampled the demo song, and added an mp3 of it for you to hear. Added a disk image of the released disk.

2002-02-21:

The new site is released! Better layout and more/better content. Heck, I might even update it regularly for all I know!